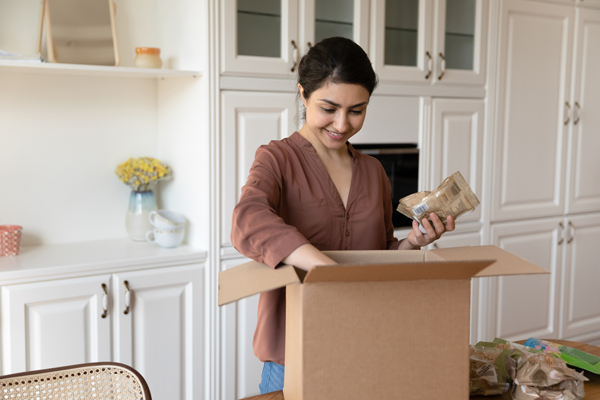 Insert Marketing: A Great Way to Spread Your Brand
82% of people trust print ads
over digital ads. This is because
print ads can bypass the clutter and distraction
customers are inundated with online. With printed materials, customers are instead seeing ads straight from a trusted source. They are also more likely to at least browse a printed ad before tossing it.
Of all the different kinds of printed marketing channels, product inserts reach the highest quality audience possible—your actual buyers!
What is product insert marketing anyway?
Insert marketing is the strategy of targeting a customer the moment a package is opened. This is done by using branded printouts to advertise, educate and excite.
Inserts fall into two categories, promotional and box. Promotional inserts are printouts placed inside a package to grab attention. Box inserts are the packaging within a box that hugs the product. When designed together these inserts become an important hybrid marketing tool for elevating the unboxing experience. They work together to embody your brand and drive customer engagement.
"The top five most trusted advertising formats are all traditional, with customers most trusting print advertising (82%), television advertising (80%), direct mail advertising (76%), and radio advertising (71%) to make purchasing decisions."
Types of box insert marketing campaigns
The primary goal of a box insert is to hug and protect the goods. Customizing the insert to better fit products will lead to less breakage and increase marketing revenue over time. Even more, inserts are endlessly customizable. You can create a special moment for people to share either in person or via social media. You can go the hyper minimal route to feature your product (these are your Apples and Samsungs), or print onto the whitespace with designs and copy (think of
subscription boxes
).
The three types of box inserts:
Corrugated box inserts - these inserts are booming in ecommerce right now. Almost every subscription box and cosmetics order uses them. That's because corrugated cardboard is cheap, has an extremely durable rigid shape, and can be easily customized with colors, text and promotional messaging
Molded pulp/plastic box inserts: these are the pulp and plastic containers that tightly hold products in place. Molded inserts are used heavily with electronics and cosmetics because of their awesome durability and surprisingly luxurious feel. They are also cheap and keep costs down.
Foam box inserts: are lightweight, scratch resistant and protective foam casing. This cuts down on shipping and the foam makes shaping and padding awkward angles easy. You can see why many jewelry, high-end cosmetics and beverage companies use foam inserts.
How businesses use promotional insert marketing
Promotional inserts are essential to any business selling physical products. It's an easy way to hit a paying customer with impossible-to-miss branded content. Unlike the digital ads that consumers can now block, unlike the video ads they can can mute, and unlike the radio ads that can be turned off – your audience will see and touch the insert. They'll double check it before tossing, just in case there's a warranty, receipt or code. This is a powerful marketing opportunity!
Pro-tip - When selling through Amazon, you must follow strict guidelines. Namely, you can't badmouth Amazon, upsell customers or influence ratings. But you can, and should, use inserts to promote your website and drive traffic to your social media.
Fun ways to use promotional inserts:
Tell your brand story: Use inserts as an opportunity to reinforce your brand name and identity. Have the brand logo and vision sitting on top of the product when the box is opened. This is a quick way to remind the customer why they made a purchase and get a little more excitement out of the purchase
Educate your customer on new products: This is arguably the most used type of insert. They make sharing quick start guides, tips, and warranty information easy. Providing additional information fosters engagement and builds brand awareness
Cross sell and upsell other products: Promotional inserts are a great tool for showcasing new products. You can also upsell related products and attachments for the recent purchase. Using a QR code lets you quantify and optimize ongoing insert campaigns. Inserts are a great way for diversify your revenue and get quality eyes on your product
Discount slow moving products: And promote them with an insert. This an option for diversifying your revenue. It's also a whole lot cheaper to print a slip than push paid search ads, buy influencer plugs, or store excess inventory
Drive traffic to your social media: Give your customers something more to discover and engage with. Increase brand awareness with Amazon purchases. Make sure your social bio and posts act as a touchpoint for your brand, and contain the visuals, copy, and links needed to drive engagement
Get customer feedback and reviews: You always run the risk of bad reviews, but encouraging feedback helps your business design better products and services. In the long run, it's a winning strategy
Businesses selling physical products need to leverage inserts
But insert marketing is just the tip of the iceberg. Over the next couple months, we'll dive deep into
hybrid marketing tips, tricks, and strategies
.
Follow us on LinkedIn and never miss another article