5 Advantages and Disadvantages of Traditional Marketing
5 Advantages of traditional marketing
Traditional marketing might sound like a thing of the past, but in reality, traditional ads are far from dead. Traditional ads hit hard, increase brand recall, and drive serious ROI. Here are some of the most significant advantages of traditional marketing methods:


Increase trust

Of all the advertising channels, the top 5 most trusted channels are all forms of traditional advertising, with print ads being the most trusted channel. That's because traditional advertising provides a highly targeted and tangible piece of marketing. These channels are also more vetted than their digital counterparts. The editors that publish and broadcast ads act as gatekeepers of quality.


Expect better brand recall

Whether you're sitting in a waiting room, driving to work or exploring an art festival, everything from pamphlets and radio ads to full billboards are everywhere you go. It's a part of your day-to-day life, and unlike digital marketing channels, humans innately engage with physical content.


Increase advertising reach

Yes, digital marketing can reach a lot of people. But you're fighting with ad blockers, viewers who may not trust online ads, and the refresh button.

There's a market of quality, local viewers that you would never normally reach through the web. The sort of high-net, loyal subscribers who pay for magazines, or the kind of person who tunes into a show every night, like clockwork. Print ads sit on dining room tables, hit people waiting in line, and get handed out at conventions. Outdoor, tv, and radio ads hit customers at home and on the road. With some elbow grease and strategy, print marketing can quickly increase brand awareness.


Bypass the digital clutter

Digital burnout is real. It was a thing before the pandemic lockdowns, and now people are fed up with how much of their life is spent online. You're trying to stand out in an ocean of worthless spam. The article you're reading right now is competing with a million others for your attention. Newspapers, posters and direct mail might sound dated by comparison, but think about the last ad you saw. You probably actually read it. It probably felt like a breath of fresh air

—

it might even still be sitting on your table at home.


Supercharge your marketing ROI

Marketing is a numbers game. You're trying to stay in front of customers for as long as possible. You're also trying to engage prospects with advertising that tells a story. The creative avenues available with traditional marketing techniques give you more creative flexibility to develop a unique, 3D campaign. Traditional marketing also gives you a backdoor for reaching customers that will leave your competitors wondering, "What just happened?"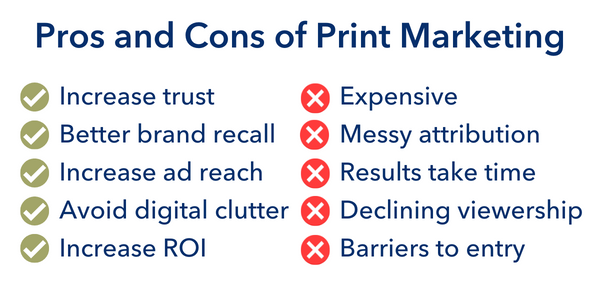 Don't get left behind. Get caught up on the 2022 Print Marketing statistics
Click Here
5 Disadvantages of traditional marketing
All these advantages come with a few disadvantages. For all the upsides of traditional ads, there are some pitfalls. Here are some of the obstacles of traditional marketing methods:


Measuring attribution is tricky business

The biggest issue with traditional advertising is trying to make sense of what's actually working. Measuring the success of direct mail marketing campaigns tends to be easier, as you can link an attribution number or coupon code to each mailer. Getting a deep understanding of how brand awareness campaigns are working requires hard stats and specific metrics to break down the marketing mix. Even with all that, you'll still never be 100% sure. which isn't the case with a digital marketing campaign. Digital marketing has a world of third- and first-party data with touchpoints that let you track and remarket with unparalleled accuracy.


Running traditional campaigns is expensive

Design work and production cost a pretty penny. You're paying for everything from ink and paper to broadcast time and ad space. Creating engaging branded experiences is also going to take trial, error and a whole lot of creativity when optimizing, versus the digital channels that give you real-time results. With digital, you can publish, edit, and republish all in the same day.

With traditional marketing, on the other hand, any mistakes end up being very costly.



Viewership is declining quickly with some channels

Broadcast radio and TV are nearly gone. They're still effective for events and local news stations, but most people use streaming services now—they're cheaper, have more content and a better user experience. The same can be said about magazines and local papers.


Results take time to grow

When growing brand awareness and reach with traditional methods, you'll have to hold tight. Even the hard-hitting direct mail methods require time to print and mail the advertising. With digital marketing, it's as easy as clicking a box on a computer screen and entering your credit card details.


Antiquated barriers of entry

Traditional marketing has been around for a long time, but it really hasn't changed a lot. Software makes creating the ads easier, but you still need to work with agencies, printing companies, and account executives to get your ads distributed to the right potential customers. And a lot of these traditional advertising methods require big up-front costs and knowledge of how ad placement works.


Is traditional marketing still effective?
More than ever. Regardless of the up-front costs and barriers of entry, you can't get a better marketing ROI. It opens huge local audiences, cuts through the digital fluff, and engages prospects with a memorable branded experience.
Stay on top of the marketing trends that matter.
Subscribe to the Sempris Blog and never miss another update.