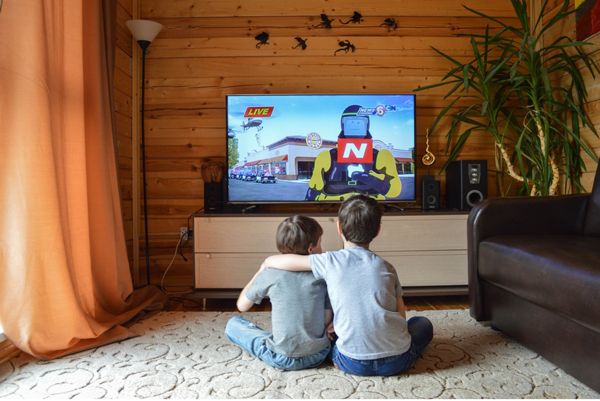 TV Advertising Isn't Dead… It's Now Digital
Bulova Watches premiered the world's first TV advertisement in 1941 during a primetime ball game. The cost? Only $9. Very few people owned a TV, and even fewer were watching them. Although only a few thousand people saw the ad, it was a brilliant example of a brand innovating and disrupting an industry. Bulova bypassed the saturated newspaper and signage marketing of the 1940s and placed itself in front of high-net-worth trendsetters. A decade later, TV was the most used type of advertising.


For years, television marketing was the best way of increasing marketing reach. A television was the center of every American household. Families would sit around together and watch the local news, a weekly show, or the next big sporting event. It was a sure-fire way for brands to reach a highly targeted group of people. All you had to know was what your buyer watched and when.
The big question: Is TV marketing still worth it?
We would argue, no. Technology and social trends have obsoleted broadcast media. It costs a fortune to produce an ad, and very few people watch live tv anymore. There's no beating around the bush about the cost, either—TV is the
most expensive form of advertising
. Professional production costs will run you $5-10k (at least!), and you can expect an average ad expenditure of $20-30 CPM (that's cost per mille, or cost per one thousand impressions).
Then, after all your effort and the money you've shelled out to produce the ads, people will still just DVR their live shows and fast forward through your ad. Or they'll browse on a phone, converse, or leave the room entirely—TV advertisements are now background noise.
TV marketing is in a phase of transition
Third party cookies—those little snippets of code used by businesses to follow your activity around the web and target ads—are going away. This means that businesses won't be able to blast digital ads and remarket individual users on every website they visit. With the death of third-party cookies,
where will marketers turn?
Streaming platforms will fill a large hole in the market. Streaming companies collect and provide enormous data on their users, and they provide the tools to easily run ads during select spots. They make it easy to contextually target audiences based on what they're watching. For example, if you're selling microwaves and pushing ads through HGTV, then the Bachelor is probably a good bet.
There are two general types of streaming marketing: over-the-top (OTT) and connected TV ads (CTV).
OTT vs. CTV marketing
OTT are television ads that companies stream digitally. These are the ads that you see between shows on Hulu that play during livestreamed sporting events and between Twitch gaming streams. OTT ads tend to be shorter with a timer, creating a sense of finality. Though still the same tv ads, there isn't a way to fast forward through the content.
"People ages 18-30 are using 11.3 different services, while those 51 or older use about 5."
CTV on the other hand are those ads that are shown on connected devices. Roku and Amazon Fire for example both promote shows and products on the home screen. CTV ads are loved by marketers because they're brand-safe and fraud-free. Programmatic tools also make running ads extremely intuitive, and brands can target positions, locations, and run times without the
traditional media buying barriers
.
"81% of consumers would rather use a free ad-supported service than subscribe to another paid service"
TV advertising is starting to go full circle again
High production TV ads are providing serious ROI again. It's just no longer broadcast; it's digitally streamed. Marketers can bypass the noise online and reach massive audiences of targeted buyers. But unlike TV, these ads are far easier to run, don't have any of the traditional barriers to entry, and yield great results.
Stay Tuned for Next Week...
Subscribe to our newsletter and never miss another article