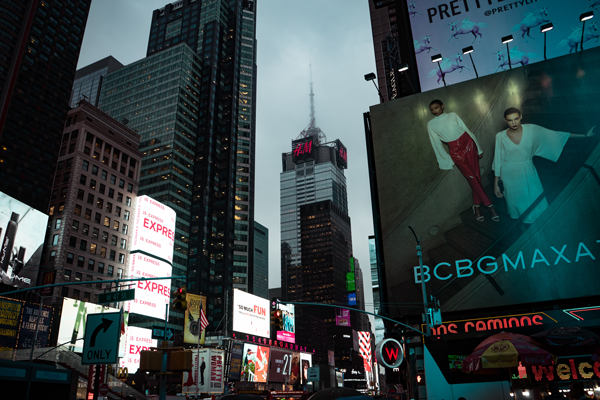 Hybrid Marketing – Shatter Silos And Maximize ROI
Digital marketing has overshadowed traditional marketing for the last decade. This is because digital provides fast, measurable results on a global scale. But traditional marketing still plays a massive role in modern business. It's been shown to be a more trusted and narrowly targeted method of reaching quality audiences. Traditional ads cut through the saturated digital ecosystems to provide a unique, tangible experience.
But why choose between the two? Customers have grown to expect a synced user experience with all branded touchpoints. This is where a hybrid marketing strategy comes into play.
What is Hybrid marketing?
Hybrid marketing is a strategy that uses both digital and traditional marketing channels. It aims to shatter silos across channels with holistic branding. It uses all available marketing channels to build brand awareness, attract a greater pool of prospects and ultimately push more conversions. This style of marketing flexes around every customer's unique journey, creating a more personalized experience.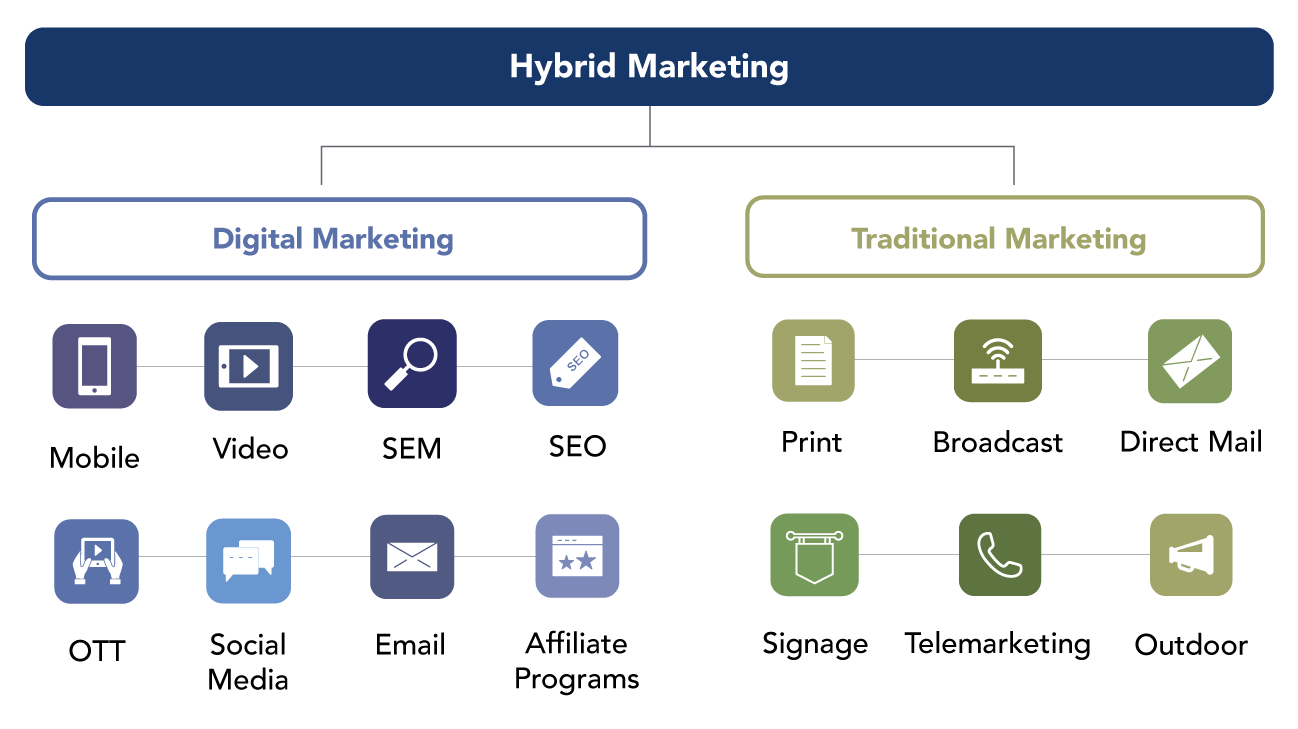 Is hybrid marketing the same as omnichannel and multichannel marketing?
Omnichannel marketing is the same as hybrid marketing. Multichannel is defined by using both indirect and direct marketing techniques to sell a product. This means that a multichannel strategy can encompass only digital, only traditional, or combine both channels.
Direct vs indirect marketing
Direct marketing involves directly engaging with your customer, as in reaching out to the customer and requesting action. Many of the traditional marketing methods focus on direct methods, such as direct mail and telemarketing. But PPC and email marketing methods are also direct marketing.
Indirect marketing is the strategy of developing leads, brand awareness and brand authority. It uses content and knowledge to sink the brand into people's life. This is an extremely effective way of developing trust and brand recall with the customer.
Hybrid marketing typically uses both direct and indirect marketing channels to grow a brand and executes sales. It does this by communicating a consistent message to a greater pool of people. It creates sales from curated audiences and the looser general pool of undiscovered prospects. By combining these methods, you can expect to pull in more customers.
What are the types of digital marketing?
Digital marketing is a broad term that encompasses everything online. Unlike most of the traditional marketing methods, going digital is far cheaper, far faster and can reach larger pools of potential buyers. It's also easier to leverage data, adapt and hone advertisements.
What problems do
digital marketing
channels solve?
Video Marketing is arguably the most effective form of digital marketing. Video is proven to build brand awareness, attract readership, boost traffic and drive conversion. The average number of hours of videos watched per week has been steadily growing from 10.5 in 2018 to 29 in 2022. If you're trying to set a trend, live video, interactive media and 360/VR video are budding in popularity
Search engine marketing (SEM) are ads that you buy to top the search engine results page (SERP) or display on chosen websites. You are paying to expand your marketing reach. You might not see the ROI immediately, but these ads work extremely well at increasing a brand's visibility
After the dissolution of third party cookies, where will SEM stand? Read on
Search engine optimization (SEO) is the process of fine tuning a website and its content to bring in a higher quality audience. It's how companies optimize their footprint to pull in unpaid traffic (organic traffic). If free website traffic doesn't sell you, here's a hard stat—over 50% of people use a search engine to research their purchase, and 32% of all clicks are on the #1 ranked page
Social media marketing targets the customer where they hang out. Social provides a great place to publish knowledge, engage with followers, and show off your brand's unique flavor. Here's a great resource for more on social strategy
Email marketing contains the highest ROI out of any digital marketing channel. It can get up to an impressive 4,200% ($42 for every $1 spent). It's an excellent way to stay in touch with customer by sending promotions, new releases and events. The best part about email campaigns is how cost efficient they are
Mobile marketing encompasses text (SMS), multimedia message (MMS) and apps. They work in cohesion with other types of digital marketing to create a hybrid experience. Mobile is a great way of elevating the customer experience, with 98% of people owning a phone, SMS/MMS can be a powerful way to send useful resources, receipts and reminders. And apps provide an opportunity to collect, analyze and leverage customer data
Over-the-top (OTT) and podcast marketing has disrupted the traditional industry. Now marketers can bypass the large broadcast barriers of entry. Instead targeting audiences based on media type, demographic and interests. OTT and podcast target audiences with enhanced ad relevance to increase engagement
Affiliate marketing is where customer is given a discount or paid for referring business. The biggest pro with offering an affiliate program is that your business will make money with little to no investment

What are the types of traditional marketing?
Named for being the old, tried-and-true form of marketing, traditional marketing focuses on targeting specific targeted audiences. Unlike digital, traditional marketing creates higher recall and customer trust. It also has the ability to bypass the online noise.
What problems do
traditional marketing
channels solve?
Print ads are any form of printed media that's intended to engage with your customer (we lump box inserts into this category too). There's no beating around the bush, printed ads are expensive, not trackable and have less reach. So why buy in? Because, believe it or not, print ads are the most trusted form of advertising. The reader is extremely targeted and more likely to read and remember your ad. In what you spend upfront, you make up for in higher conversion rates, greater trust, and increased brand recall text
Broadcast marketing taps into broad local audiences. 63% of Americans listen to the radio daily. And 21% of Americans still watch broadcast new daily. Though declining, this the market is still there to leverage. Broadcast can be especially effective at reaching older generations and rural Americans
Direct mail is far from dead. 67% of Millennials use the direct mailers as a cue to jump online and read more. There is also a significant ROI with mailing existing customers, it keeps your brand in the top of mind. It's the type of thing that people check before throwing away or giving to a friend
Signage is any public facing sign. These are a core cog in any branding experience. Signage is proven to draw people into a storefront. People are more likely to remember your brand and potentially make a purchase based on the signage. If done well, a great sign drives people to research what your business is about
Telemarketing is an interesting marketing channel. Call centers are declining because 92% of customers think unidentified calls are spam. But if someone is already in the buying funnel and picks up, 80% of them will accept a meeting. When a high-ticket product/service is coupled with a curated list of quality leads, this form of marketing can be extremely effective
Billboards and branded features are impressive and engaging. They increase brand recognition by advertising every day to commuters. These ads almost become landmarks in their subconscious. It's a great way of bringing new customers into the door or reminding someone, "Oh yeah, I need an oil change."
Hybrid marketing converges the digital and traditional into a consistent experience
It uses a handful of indirect marketing techniques to increase brand awareness and recall. Using both broader campaigns and extremely targeted methods to funnel more potential customers into the buying process. Then leverages direct methods to engage and convert, all while keeping a beautiful, user-focused experience.
Interested in learning more about hybrid marketing techniques?
Subscribe to our newsletter for more