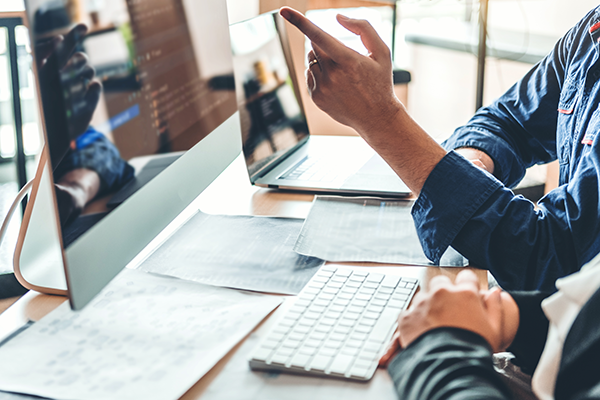 Website Health – Top 3 Tools for Auditing Your Site 
Staying current on your website health is vital for success in today's digital landscape. A big component of this is monitoring performance, loading times, errors, and more. There are an overwhelming number of tools to help you do this, but not all are cut from the same cloth. We've narrowed it down to the three most essential tools to do it all.
Built-in Developer Tools

Some of the most powerful (and free) tools available are the built-in developer tools. Every browser by default lets you inspect, test, and debug source code. Though free and easily accessible, the size and available tools might feel daunting. Here's a good place to start.

Once the developer tool is open, you'll see a number of different tabs. We find the most helpful are the 'network' and 'console' tabs.

Network tabs show you a list of all the resources being used when your site loads. This helps identify inefficient resources that are taking a long time to load, which you can address for easy (or sometimes not-so-easy!) boosts to your website performance
Console tabs show you any errors or warnings that occur when your site loads. This allows you to troubleshoot your problems on the fly. It gives you the power to view and interact with aspects of your website in real time within your browser




Lighthouse

Lighthouse is an open-source Google Chrome browser extension tool that's packed with automated testing audits for performance, accessibility, SEO, and more—it's our go to free website health checker. While it has many uses, we use it to test the performance and loading metrics of our web pages. Since it's opened as a window in the browser developer tools, you can easily audit sites directly on the web page. Some other big advantages with Lighthouse include:
When you run the page load test, Lighthouse opens your web page in an emulated chrome browser and spits out performance and loading metrics for that specific load. It also lists opportunities for where your web page might be struggling
Performance scores and metrics are all color coded which makes analyzing results faster. Lighthouse also includes resources to understand what your report means—which saves time when getting started
Lighthouse is especially helpful for measuring web page performance and loading metrics over time, for both before and after you make a change to your site
Lighthouse gives you the capabilities to run an emulated test on a mobile device. We tend to use other tools with mobile testing capabilities, but it's a nice feature to have on hand
GTmetrix
GTmetrix
is another great tool for running performance/loading audits. Unlike Lighthouse, this is a paid service, and it doesn't plug into your developer tools (you paste your url directly into a cloud based browser). But in where you lose seamless integration, you do get a selection of powerful options:
GTmetrix is especially useful for testing your web page on mobile devices, as you can select from a list of different simulated devices. This includes a range of mobile devices and operating systems
You're given the option to test each web page from different geographical locations
You can schedule automated tests for a specific URL at a set cadence
GTmetrix tracks the history of your tests through your account
There's Unfortunately No All-in-One Tool for Optimizing Website Health
You'll find that different tools give you different results, so it's important to find what works best for your site. There are plenty of other tools out there; these are just the three that we believe are worth checking out.
New Content is Always Brewing at Sempris
Follow the Sempris blog for the hottest topics in marketing and business.